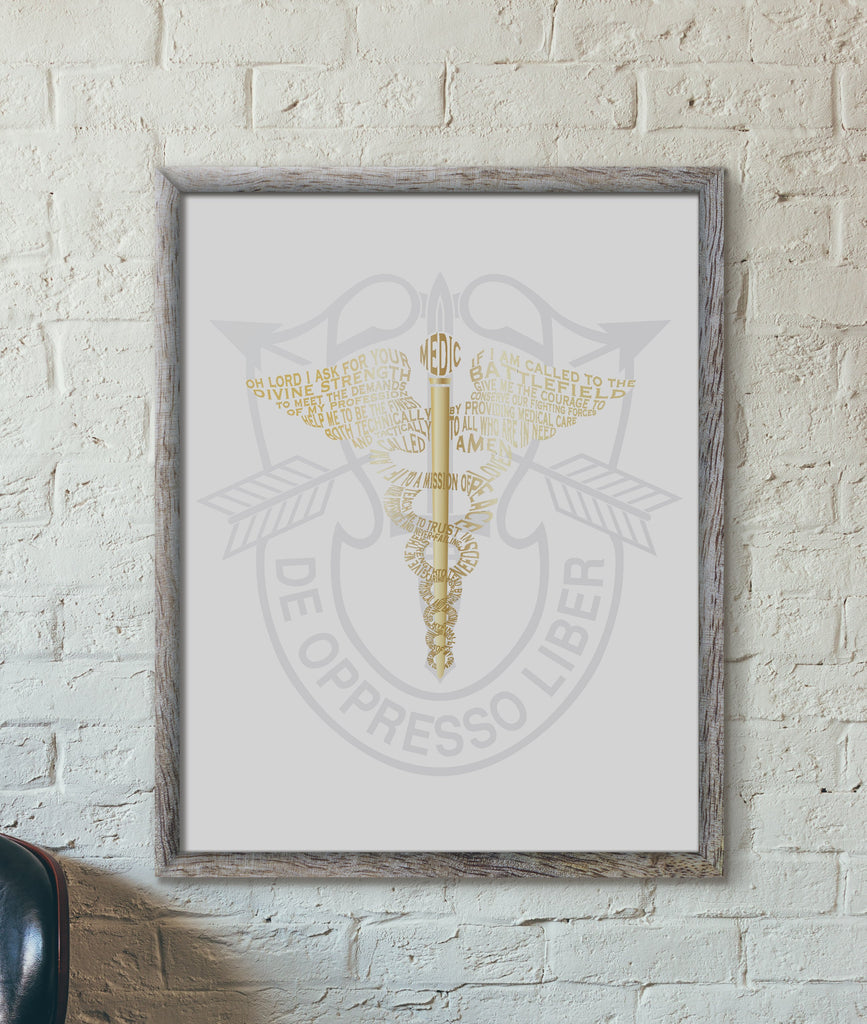 Special Forces Combat Medic
Product Description
Our Special Forces Combat Medic blends the traditional Special Forces crest with the medical caducesus. This print is elegant and detailed, designed in a gold faux text with a light gray background. Embedded inside the caducesus is the combat medic's prayer:
"Oh, Lord I ask for the divine strength to meet the demands of my profession. Help me to be the finest medic, both technically and tactically. If I am called to the battlefield, give me the courage to conserve our fighting forces by providing medical care to all who are in need. If I am called to a mission of peace, give me the strength to lead by caring for those who need my assistance. Finally, Lord, help me to take care of my own spiritual, physical and emotional needs. Teach me to trust in your presence and never-failing love. Amen"
Our art is printed in-house to ensure exceptional quality.  We personally handle and review products to give our customers stunning design prints for their favorite spaces. Each of our paper prints are cut exactly to fit an 8x10, 11x14, or 16x20 frame opening. Framing is available and optional.

We print using archival dye-based inks, Artisan Archival Linen paper.  Our 60lb. linen paper is a high-performance photo matte, which is then embossed with surface linen.  Acid and lignin-free, this gorgeous paper is best used for our designs that have highly detailed text and images.

Our canvas is printed on art gallery grade matte canvas and is fitted with a 1"inch gallery wrap canvas.  It comes ready to hang with hanging wire and soft silicone wall protectors.  It is available stretched and framed up to 24x36 inches.  It can be shipped unmounted and rolled for canvases larger than 24x36.  Please email us for a quote on custom sizing.

We hope you enjoy the quality of our artisan designs!
Related products
You might also like