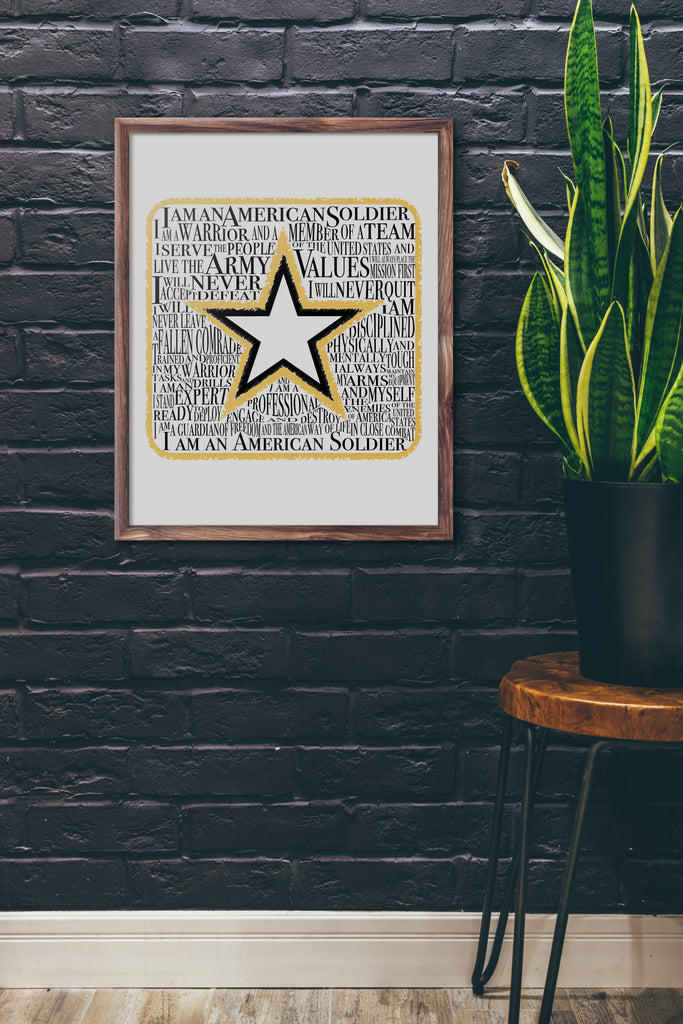 I Am An American Soldier
Product Description
I Am An American Soldier blends the Soldier's Creed and Army seal together in one artistic print.  This inspiring print displays the pride and commitment of so many Army service members, and makes a wonderful gift for any military member to celebrate their enlistment, promotion, or retirement. 

Our art is printed in-house to ensure exceptional quality.  We personally handle and review products to give our customers stunning design prints for their favorite spaces. Each print is cut exactly to fit an 8x10 or 11x14 frame opening.  Our 12x18 inch designs are printed on 13x19 inch paper.  Watermarks and logo will be removed upon printing.  Matte and frame not included.
We print using archival dye-based inks, Artisan Archival Linen paper and satin photo paper.  Our 60lb. linen paper is a high-performance photo matte, which is then embossed with surface linen.  Acid and lignin-free, this gorgeous paper is best used for our designs that have highly detailed text and images. 
The Ultra-Pro Satin paper is best for our designs with solid colors and blacks. It's bright white color and subtle sheen help bring out the vibrant colors that are a trademark of our designs, and it's particularly good at reproducing deep blacks and contrasts. 
We hope you enjoy the quality of our artisan designs!
Related products
You might also like