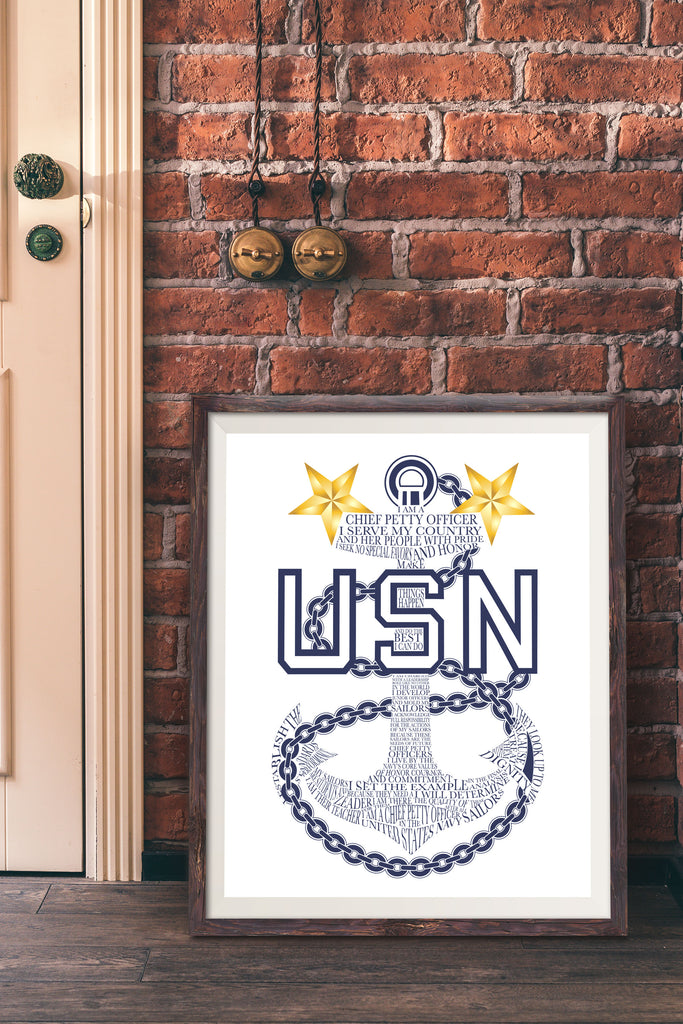 U.S. Navy Chief Master Petty Officer
Product Description
The U.S. Navy's Chief Master Petty Officer Insignia embedded with the Chief Petty Officer's Pledge makes a beautiful addition to any home or office. Available in navy and gold elements lettering, it can be customized for with a name, date, or special event.

"I am a Chief Petty Officer in the United States Navy…
I serve my country and her people with pride and honor.
I seek no special favors.
I make things happen, and do the best I can do.
I am charged with a leadership role like no other in the world.
I develop junior officers and mold my Sailors.

I acknowledge full responsibility for the actions of my Sailors…
because these Sailors are the seeds of future chief petty officers.
I live by the Navy's core values of honor, courage, and commitment.
I set the example.
I establish the standards of performance.
My Sailors are students and I am their teacher.

I guide and influence the lives of these young men and women.
In the final analysis, I will determine the quality of these Sailors.
They look up to me because I treat them with dignity and respect.
Because they need a leader, I am there for them.
After all...
I am a Chief Petty Officer in the United States Navy."
Our art is printed in-house to ensure exceptional quality.  We personally handle and review products to give our customers stunning design prints for their favorite spaces. Each of our paper prints are cut exactly to fit an 8x10, 11x14, or 16x20 frame opening. Framing is available and optional.

We print using archival dye-based inks, Artisan Archival Linen paper.  Our 60lb. linen paper is a high-performance photo matte, which is then embossed with surface linen.  Acid and lignin-free, this gorgeous paper is best used for our designs that have highly detailed text and images.

Our canvas is printed on art gallery grade matte canvas and is fitted with a 1"inch gallery wrap canvas.  It comes ready to hang with hanging wire and soft silicone wall protectors.  It is available stretched and framed up to 24x36 inches.  It can be shipped unmounted and rolled for canvases larger than 24x36.  Please email us for a quote on custom sizing.

We hope you enjoy the quality of our artisan designs!
Related products
You might also like